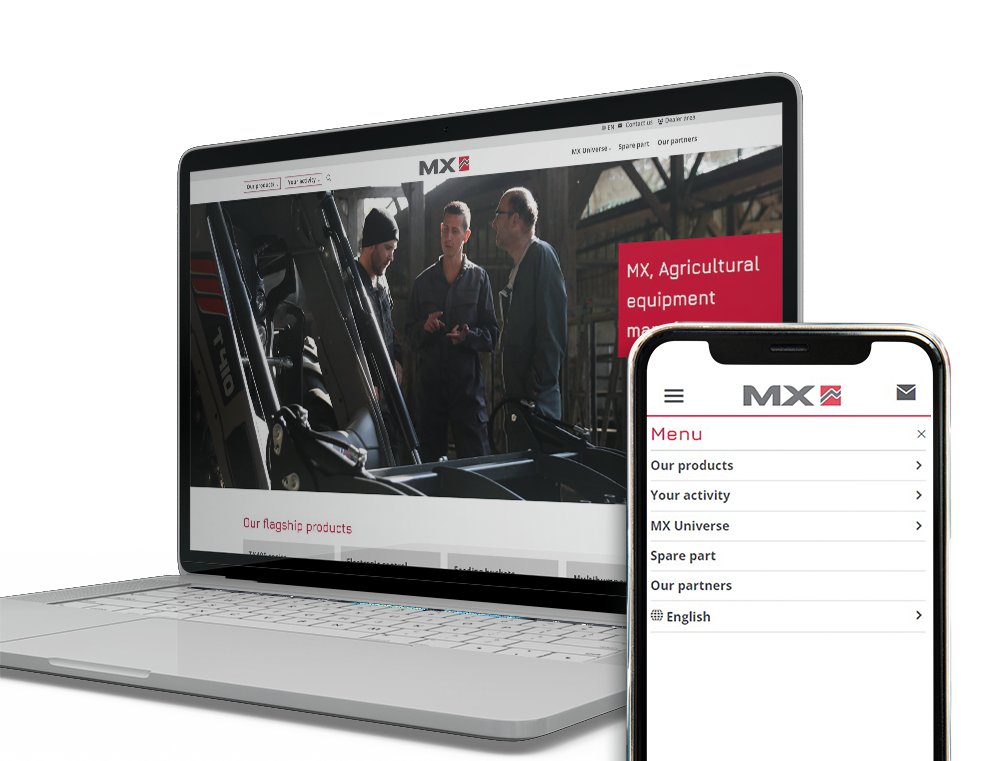 M-X.eu is evolving and launching its new website!
Get ready for a new website experience. M-X.eu is reinventing itself with a brand new site. The company is continuing its digital transformation by fulfilling a key objective: to satisfy our agricultural and dealer customers' information needs.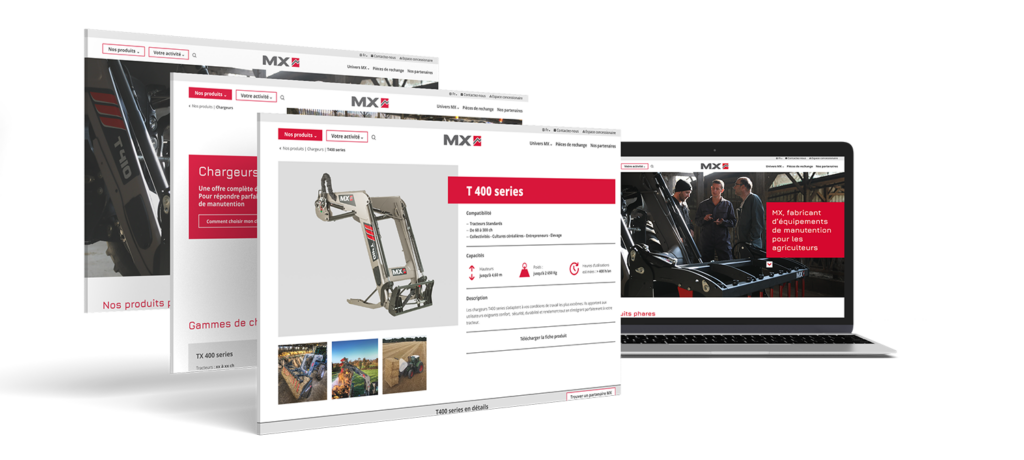 Intuitive navigation for easier access to information
To better serve the needs of our farming customers, we have designed customised virtual routes especially for them.
The product route: For those with knowledge of the MX range and/or the product required, the route commences with the Our Products menu. This allows the user to navigate directly to the required range of loaders, the appropriate front linkage, the desired handling/forage/lifting implement, the relevant control and even the preferred weight or bumper. 
The activity route: if the user needs to understand what products are specific to their activity, it is simple: the "Our Activities" menu will guide them. So, whatever the profession of our customers, Contractors, Livestock Farmers, Collectivities, Equestrian Businesses,  Cereal Growers, Green Spaces Specialists, Horticulturists, Market Gardeners, Wine or Fruit Growers, one thing is certain: MX handling equipment has been developed to help you accomplish your everyday tasks, even (and above all) the most difficult ones. 
Interactive content to help you fully experience our products 
We offer rich media content to help you really get to know our products:
From close-up photos of equipment at work, customised for tractors from a variety of brands, to videos of equipment in operation and tutorials to help you learn to use it.  
The product brochures & user manuals are also easily accessible on the associated product sheets.  
Useful mapping of our dealer network 
We offer our customers the ability to view the list of our authorised dealers via an interactive map: where to find them, how to contact them, which tractor brands are they sell.
Contact us directly via a request-based targeted contact form: product information, prices, warranties, after-sales or testimonials. This form sends the message directly to the relevant department, depending on the sender's country and the question.  
Finally, the answer to your question may have been asked previously, so you may like to head to the FAQ pages, where the most common questions have already been answered. 
A site designed to be accessible and eco-friendly
The M-X.eu website is available in 7 languages: French, English, German, Italian, Spanish, Dutch and Polish. Why? To deliver the right MX information to all our customers. Some of our products are developed specifically for certain markets, and are only available on certain versions of the site. An example? The much-lauded T400V range loader-vibrator, tailor-made for olive harvesting in Spain. 
The website is responsive: designed to be read anywhere, on any platform. 
Would you like to know more? The site is designed using an eco-design approach, in line with our CSR approach.  Sticking to the essentials, not keeping useful features, getting rid of anything superfluous, optimising media and expanded pages, these were the themes of our M-X.eu 2.0 roll-out workshops. 
Are you convinced? Happy navigation